We are young non-governmental organization based in Vienna, Austria. Our vision is to empower local citizens to know, understand, secure and enforce their roles, responsibilities, and engagements in the success of the SDGs in order to reach a better world – a world of economic and social justice. Therefore, KFDWB recommends skills and knolwedge for development at the core of the implementation of UN SDGs & Agenda 2030. The United Nations Economic and Social Council (ECOSOC) at its Coordination and management meeting of 6 June 2019 adopted the recommendation of the Committee on Non-Governmental Organizations (NGOs) to grant special consultative status to our organization, Knowledge for Development Without Borders (KFDWB). This status entitles KFDWB to designate official representatives to the United Nations Headquarters in New York and the United Nations offices in Geneva and Vienna. Besides KFDWBs primary objective of promoting the implementation of the SDGs, KFDWB acts also as a platform that provides people with the relevant knowledge and (business) skills required to alleviate global challenges at the local level. KFDWB motivates, empowers and engages people to become part of the implementation of the SDGs process and to assume active roles in shaping their communities and societies, thus literally becoming development agents. We are focusing on a proactive and inclusive approach to develop digital competences. We think that if the digitalisation is used correctly and by making its resources available to all users, it can be transformed into a multiplier of the good and an enabling factor for the creation of global justice and a more sustainable world. We have seen that some solutions are already available in part, but many people are not informed and struggle to insert them into an overall picture and towards a goal. In this sense, we believe in the enormous power of connecting people and providing them with the right tools. The 2030 Agenda is universal, applying to all countries and actors. That is why our 2020 – Projektteam – volunteerism und teamwork – "Nachhaltige Entwicklung – Agenda 2030 / SDGs mit Schwerpunkt Digitalisierung und Jobs Skills in Österreich" are convinced of the necessity of making its objectives palpable for all strata of society and to involve all stakeholders.
---
Mr. Leander Kränzle
Department of Operations and Management
@Project Manager SDGs-IT Events in den Volksschulen in Wien
Leander Kränzle is currently studying Cultural and Social Anthropology in the University of Vienna. While learning skills and knowledge about social process and discourse, he is among others engaged in a new program of KFDWB working together with young students. Especially because of recent developments within the state Austria and its support for processes of social peace and issues of immigrants, the voluntary sector and personal engagement become highly important and crucial for challenges of SDG's implementation. Therefore, the voluntary sector becomes an important institution for society including the organization KFDWB. This project wants to elaborate the challenges of the global and national policies and necessity of SDGs to young people in order to develop a critical understanding of goal formulation, negotiation and achieving strategies in a globalized world including voluntary engagement and digital possibilities.
---
Ms. Simone Wengler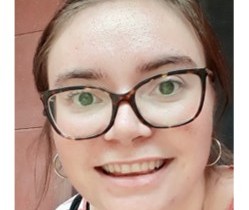 Department of Operations and Management
@Project Manager Evaluation and Development of Workshops
Simone's ambition is to make a difference in the world. That is why she decided to study 'Development Studies' in her master's degree in Sweden. This is also were she learned extensively about the SDGs, their purpose and the importance of their implementation. Throughout various visits abroad, where she volunteered and worked in different NGOs in Southeast-Asia, Simone has gained work experience in project management (including project participation and evaluation). In her free time, she enjoys travelling, photography and playing sports.
My responsibility within this project is to design workshops that are tailored for the specific audiences (primary school, teenagers, retirees). This also includes evaluating the projects to improve the workshops and monitor if the expected objectives are achieved.
By volunteering in this project, I hope to use and expand my knowledge and know-how by working in a motivated team to reach our goal. On a final note, being part of this project, I aim to empower others to foster a more fair and sustainable future.
"For me, participating in this project means to give people the opportunity and knowledge to empower themselves and be an active part of shaping their future. This means, that everyone can be an active part of change, and through that, they can practice and experience a more sustainable and fair society."
---
Team Development Group
Department of Operations and Management
@Projektkoordination, Gruppenleitung
Offer a service support to project leader and the project Team.
Identifying and building synergies between different role types to improve cohesion and efficiency.
---